Finally arrived
Feeling right at home
A warm welcome to what is probably the most charming spot on the shores of the magnificent Wolfgangsee lake in Austria. Our campground offers everything you need for a perfect holiday. Not only will you find tranquillity, relaxation, plenty of options for physical activity and a warm and cosy atmosphere, Lindenstrand Campground also offers ample space to truly make yourself at home. Our campground gives you all of these advantages right on the shores of a truly beautiful lake that has mesmerised European nobility and royalty for many centuries. Our campground is located in the hamlet of Abersee near the town of St Gilgen, directly on the shores of Wolfgangsee with its crystal-clear waters, peacefully nestled among historic orchards and lush green meadows.
A family business with a rich local tradition
We invite our guests to experience the true and authentic life in this natural reserve with its long history in rock salt mining – not a tacky programme that makes you feel like you are visiting a theme park. Our family continues to cultivate the meadows and fields surrounding our campground with their own hands. Our historic farm symbolises the roots of our family in this beautiful landscape and also emphasises our commitment to continuity and stability. Our campground facilities are heated exclusively with wood collected from our own forest – our family's contribution to the sustainable protection of our climate and natural environment.
Discover a premium camping experience with uncompromised wellbeing, right on the shores of the precious Wolfgangsee. Welcome to Lindenstrand Campground. Make yourself at home!
Come on, let's go to the beach.
One of our campground's highlights – the beach – is only a few steps from the campsites. Our beach is 140 m long, slightly sloped, and lined with bright pebbles that radiate a pleasant warmth. The shallow area along the shore is the perfect place for families with children. Here the kids can splash around in the shallow water while you comfortably unwind in one of our rental deckchairs. Guests can also relax in the two nature areas to the right and left of the bay, which are covered with soft green lawns. Or spend time sunbathing on the comfortably warm pebbles or stretching out on the timber slats of our wide pontoon. Our private pontoon extends far into Wolfgangsee and allows for a refreshing jump into its deep and crystal-clear waters. Float over the lake on your SUP board or in a kayak while you take in the breathtaking panoramic views: the expanse of the lake stretches to the horizon right in front of you, with the silhouette of historic St Gilgen visible at the far end of the lake. The majestic Falkensteinwand – a steep rock formation rising on your right-hand side – attracts daredevil cliff divers from all around the world. Facing each other, the imposing Schafberg and Zwölferhorn mountains are towering atop this breathtaking scenery, a popular destination for many of the hikes and excursions in our beautiful region.
beach days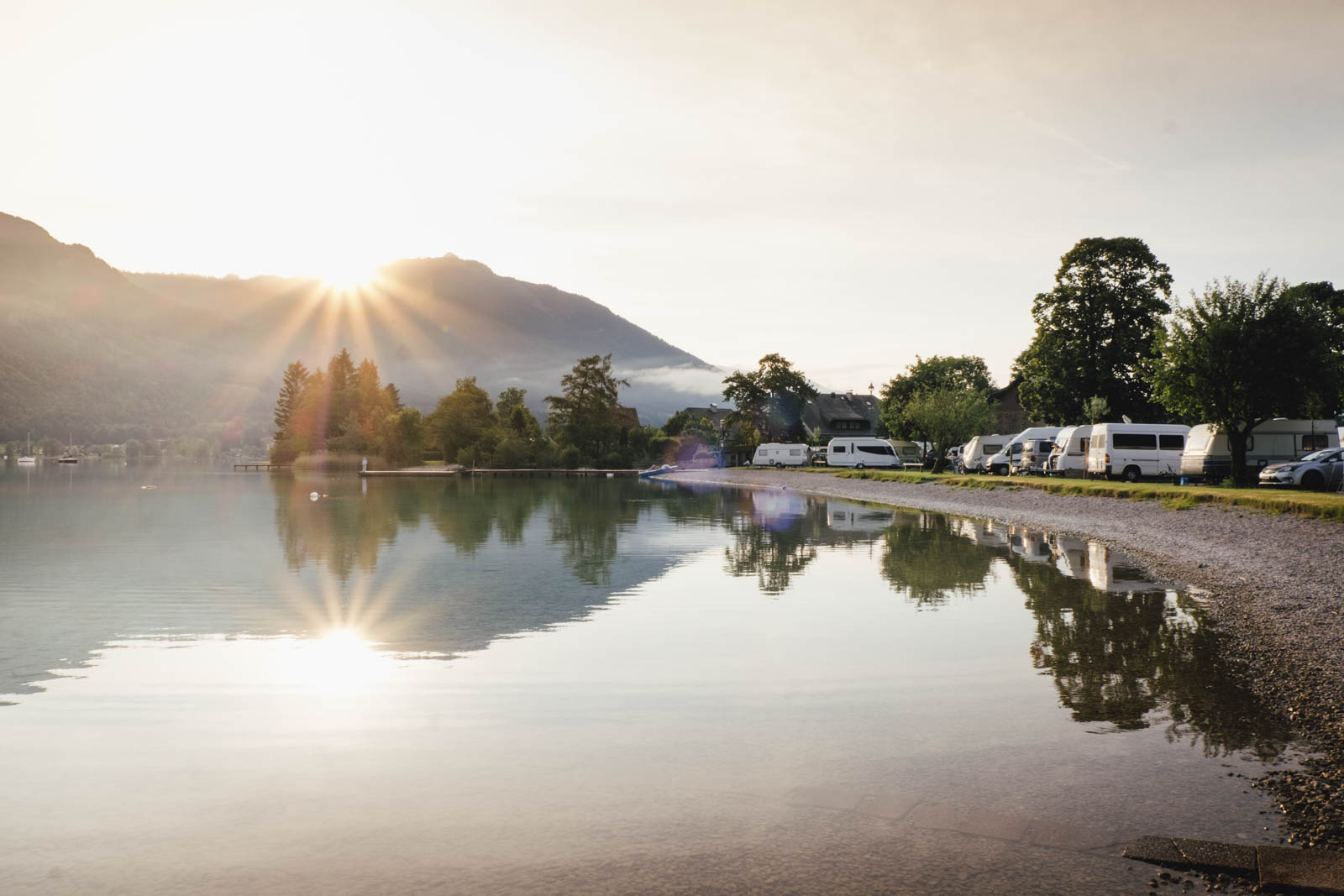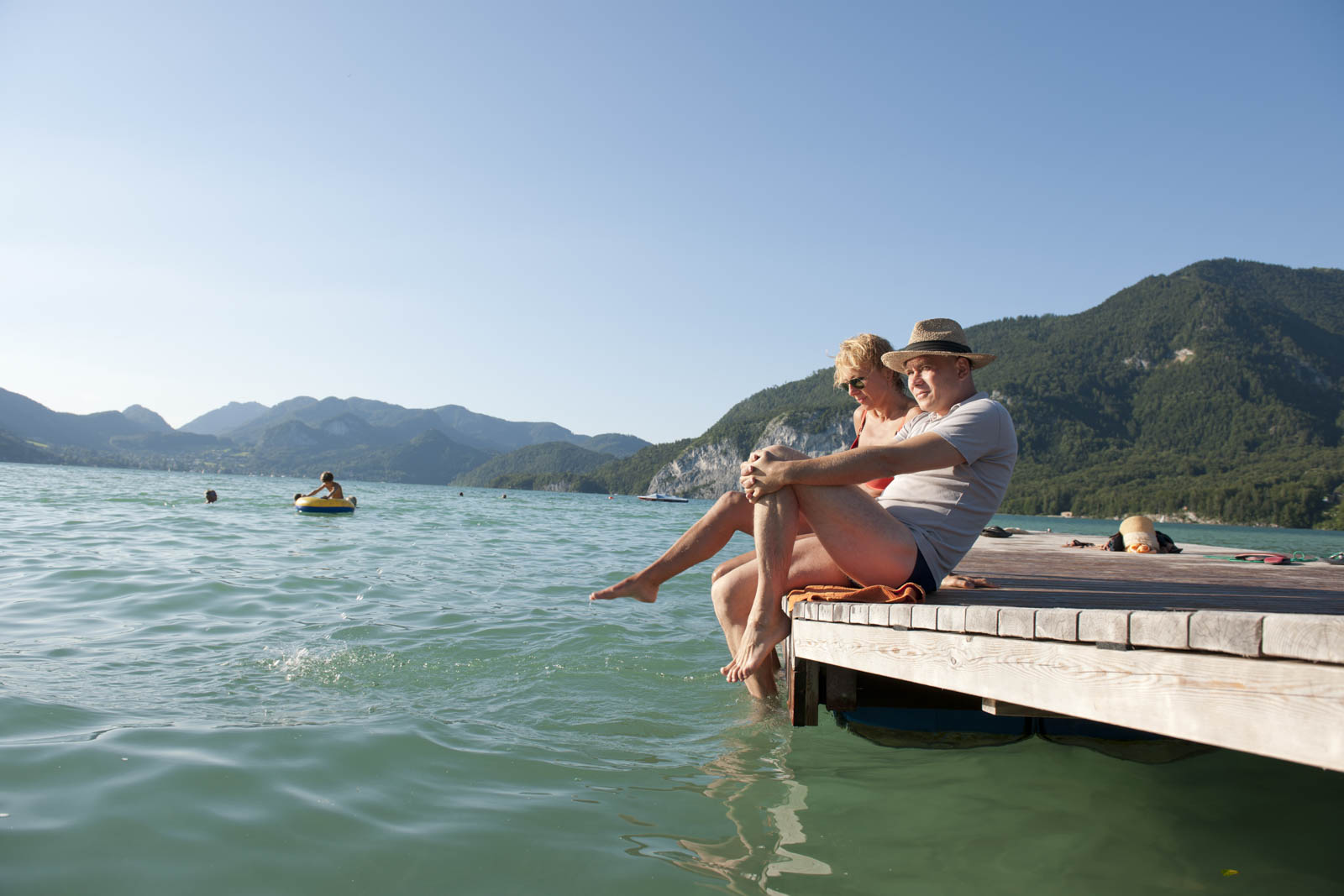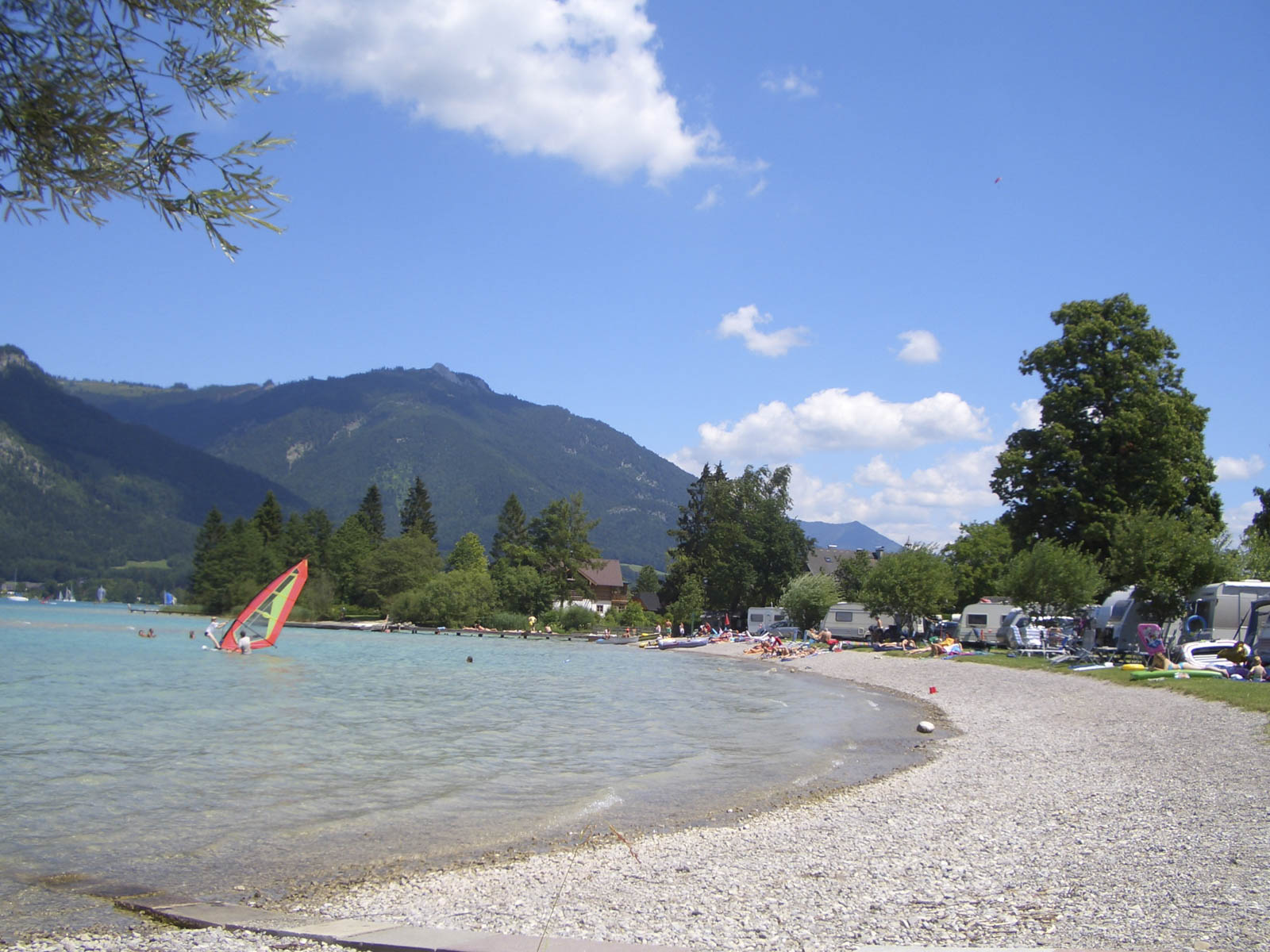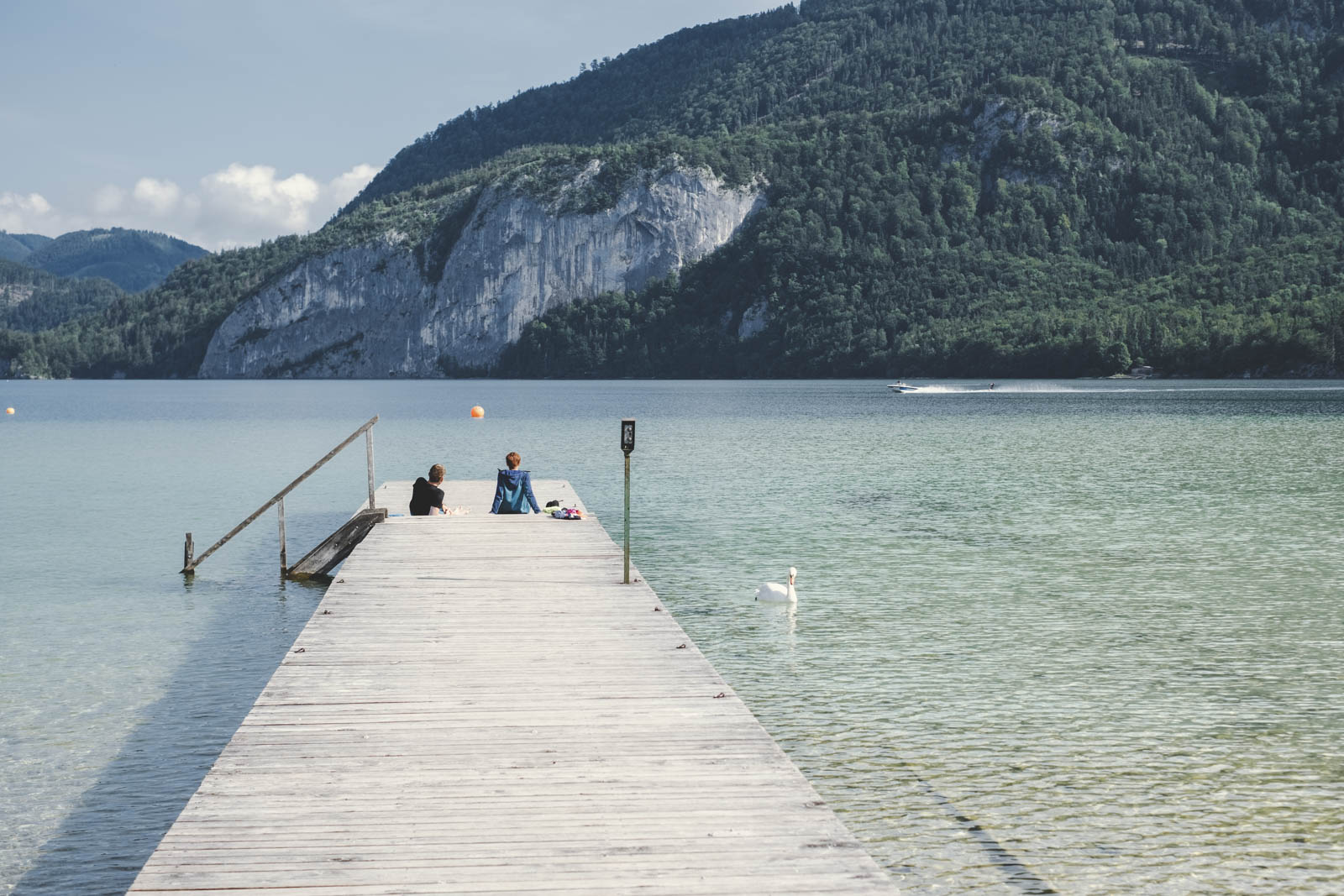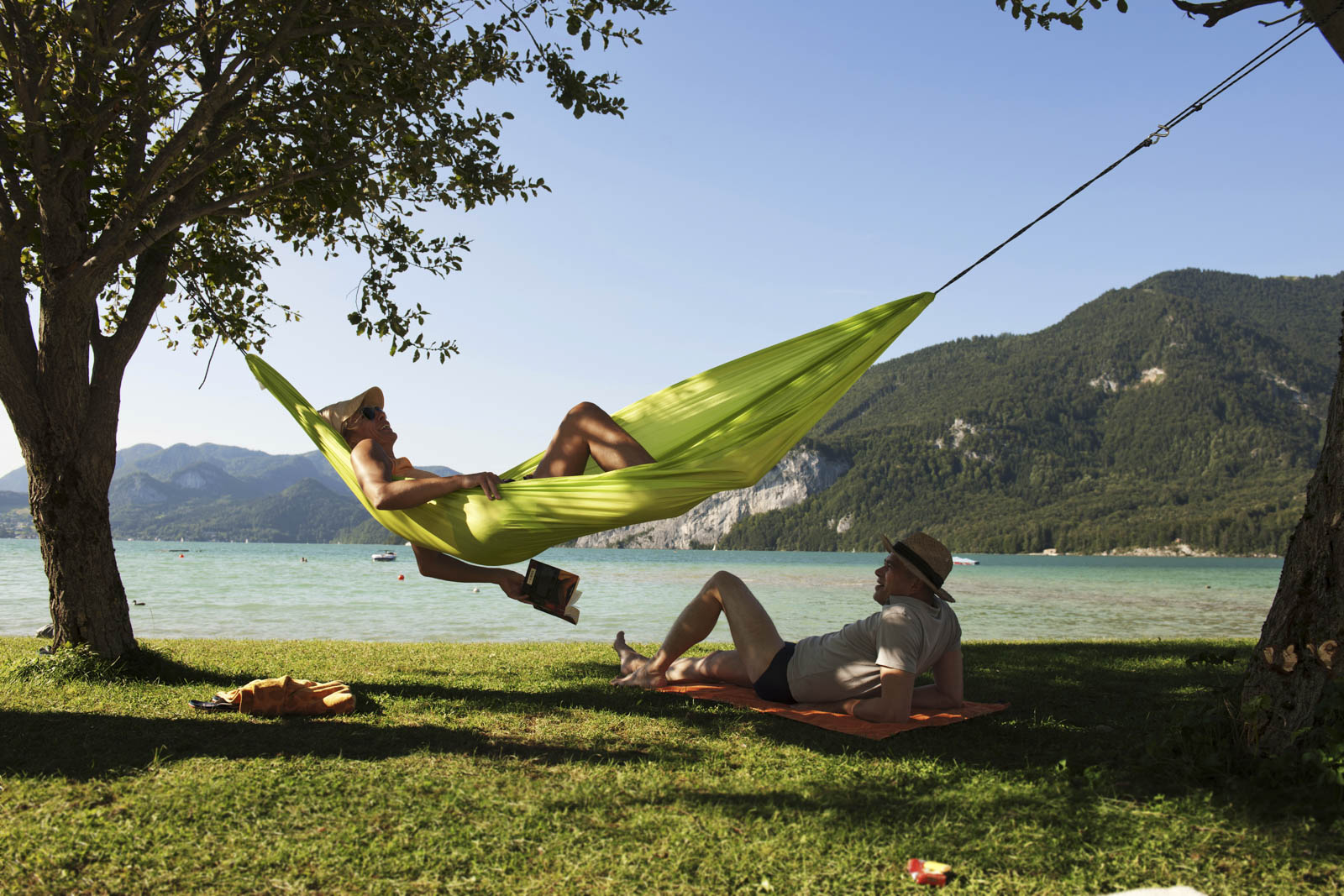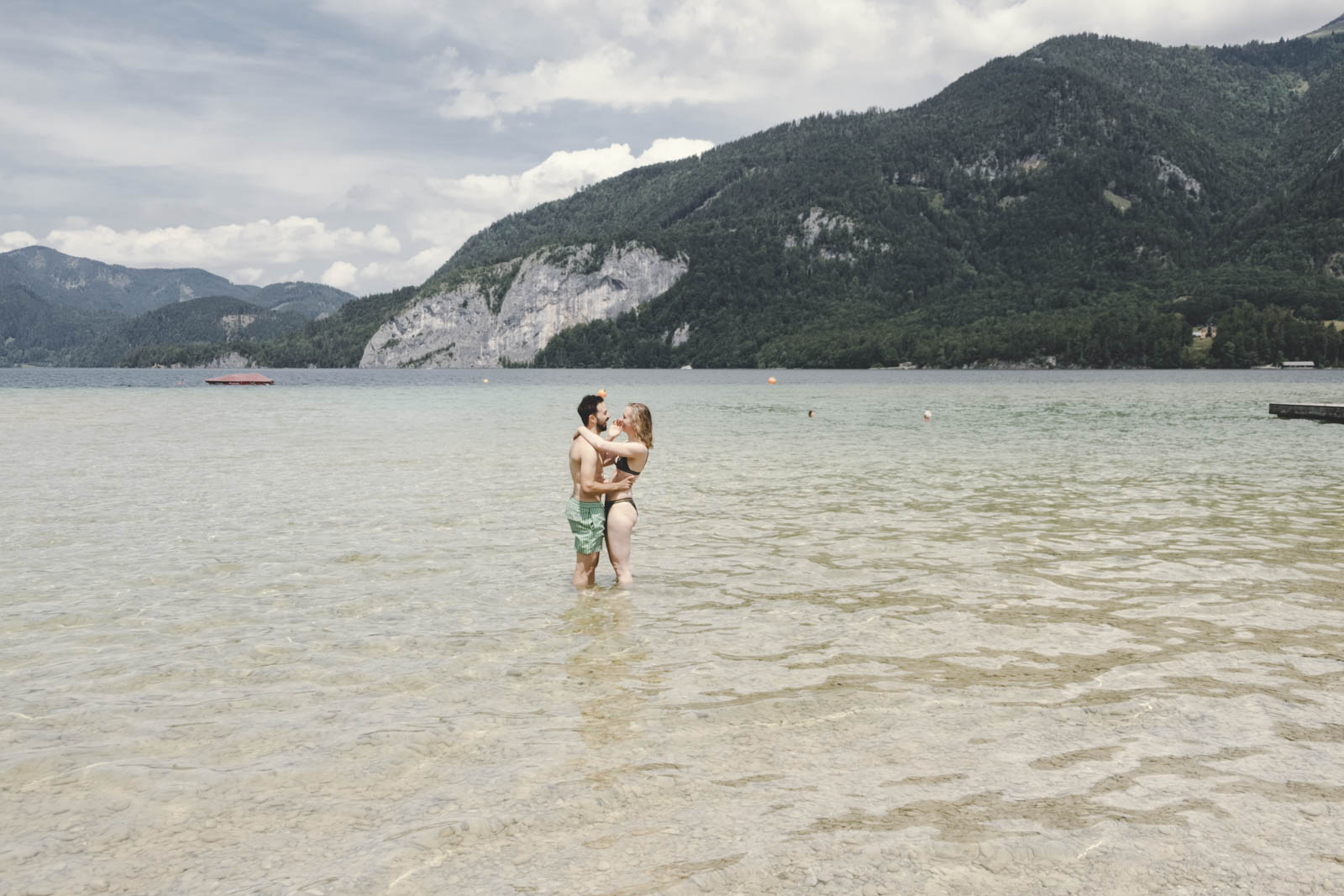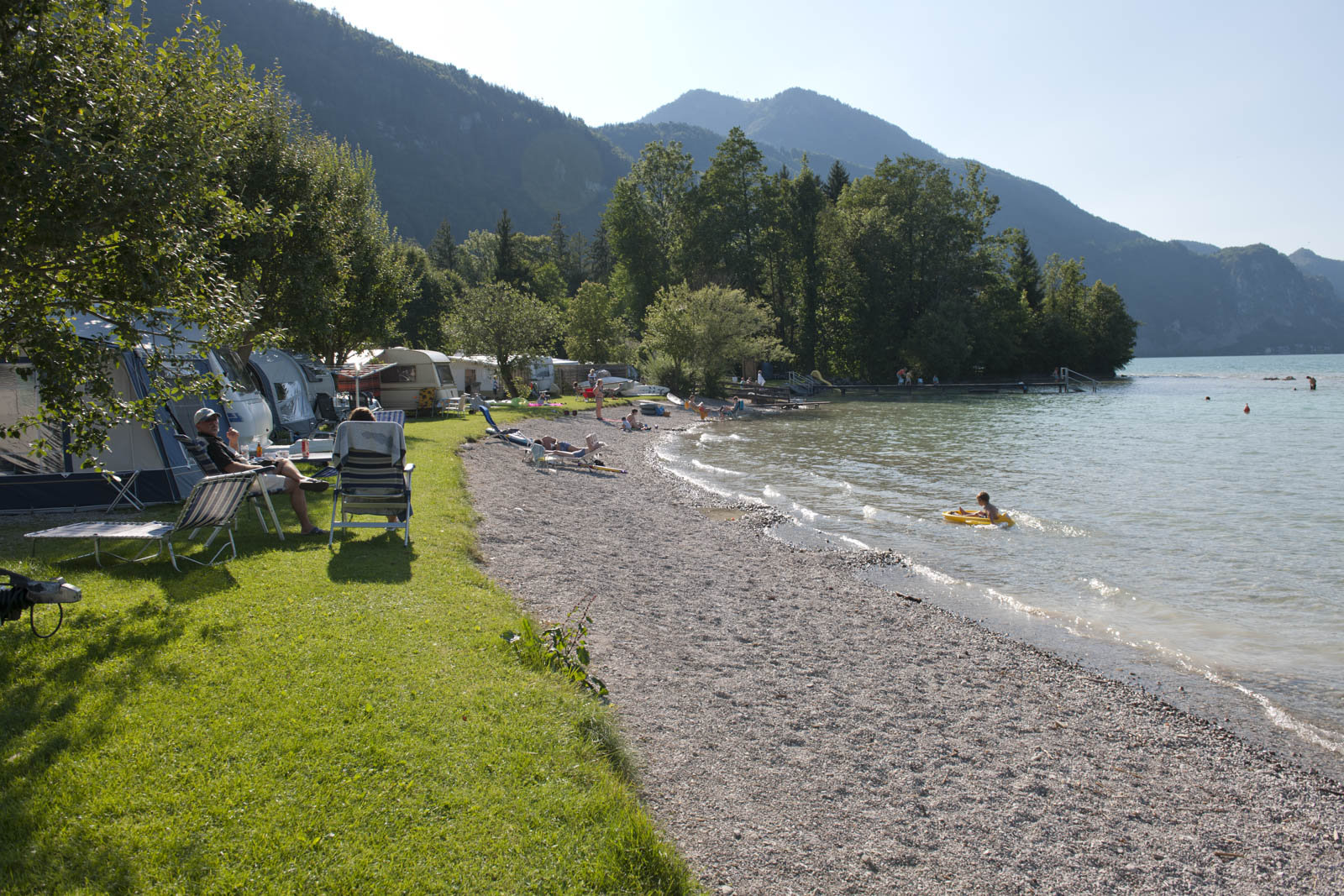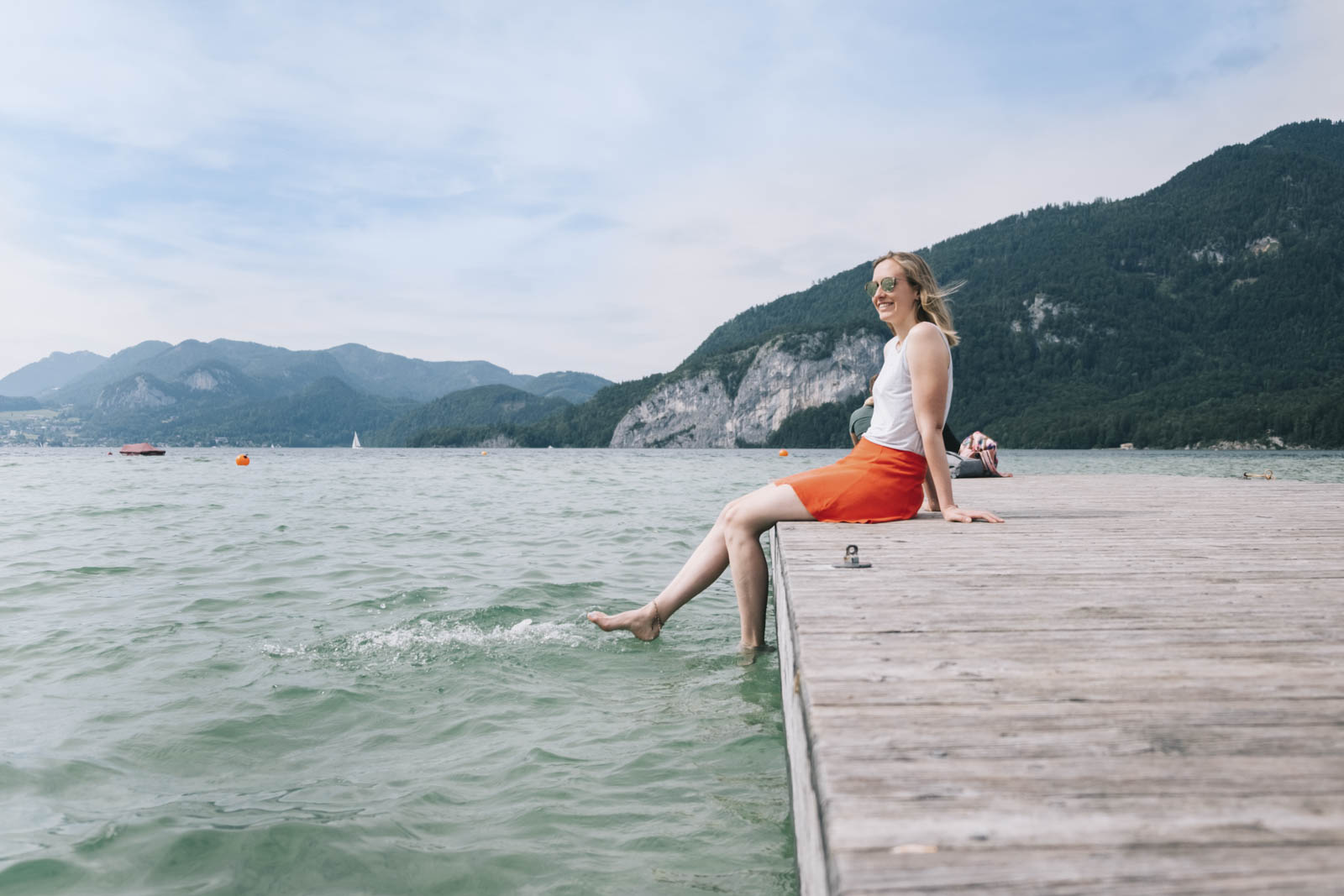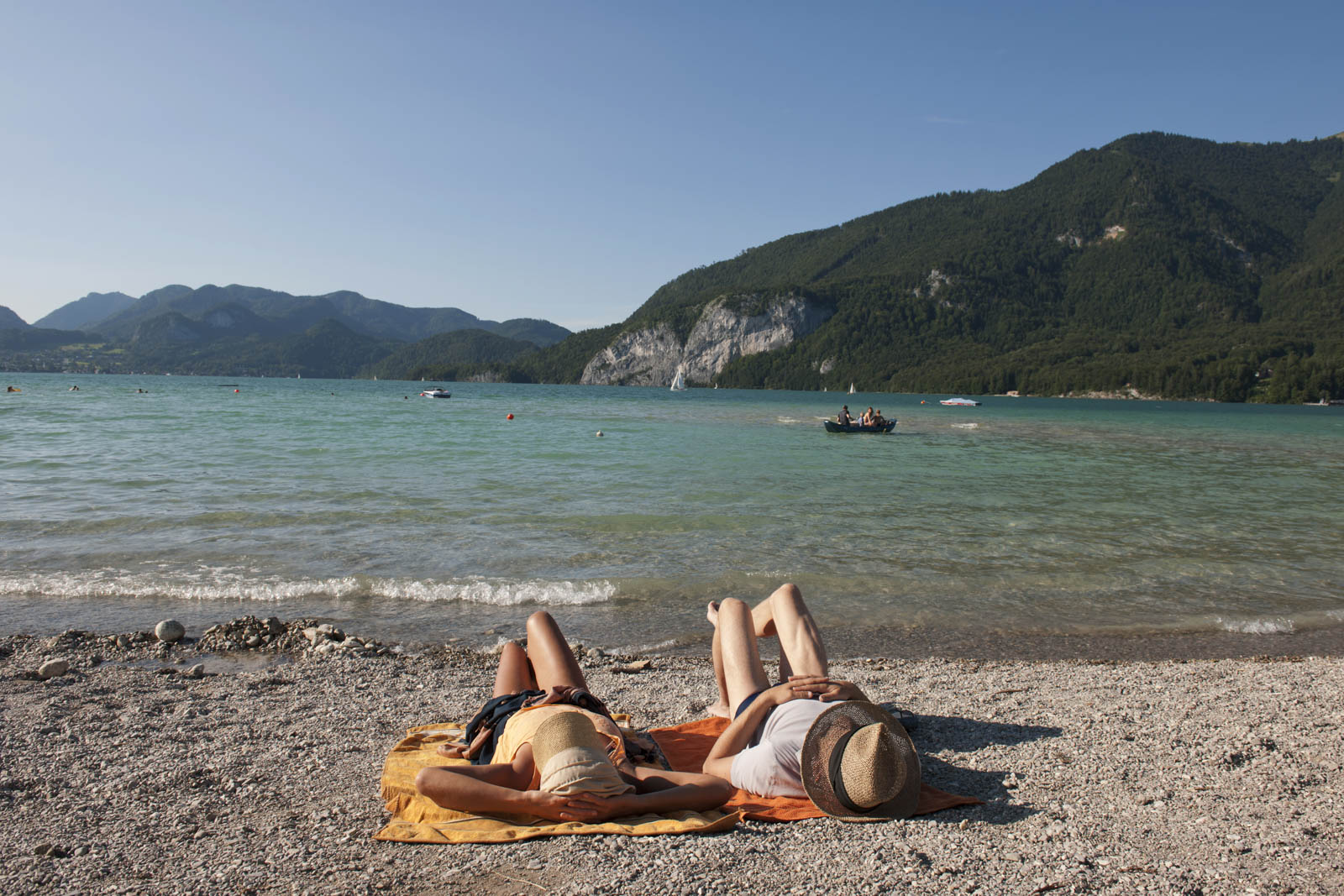 Premium camping – our 4 campsite categories
Free space is an essential ingredient for being able to wind down and relax. A warm and cosy atmosphere that caters to the needs of all family members is especially important during holidays. This is why all of our 209 campsites offer a generous amount of free space and privacy (campground map). Each campsite offers between 70 and 100 square metres (750 to 1,100 square foot) of free space – enough to make yourself truly comfortable and park your vehicle in close vicinity to your accommodation. Each campsite also has an electricity supply, and most sites also have water and sewage connections. Free Wi-Fi is available throughout the campground.
read more
Resting comfortably
Depending on whether you spend your holidays in a tent, RV, campervan or trailer, you will have different requirements in terms of the terrain. Our campground offers two different types of terrains – a solid gravel surface which makes it easy to perfectly balance camping trailers, RVs and campervans. We also offer a soft and spongy grassy terrain, which will ensure you get a well-cushioned good night's sleep in your tent.
Discover your favourite campsite
Our campground offers four categories of campsites to choose from. Whether you prefer the wide-open space of a summer meadow, the balmy shade of the fruit trees in our traditional orchard, or fading into sweet dreams listening to the waves on the lakeshore: we are certain that you will find your "personal spot" that will make your holiday an unforgettable time.
Modern restrooms, showers and laundry facilities
Our campground offers two separate locations with modern and sparkling clean showers, restrooms and laundry facilities. Implementing the latest technical standards and spotless cleanliness at all times is our top priority.
read more
Stadlbad "Auf der Sommerwiese"
One of these two buildings, the "Stadlbad", is located in the south-eastern part of the campground, between the "Im Obstgarten" sites and the "Auf der Sommerwiese" campsites. We have carefully redeveloped our old stables and created a new building with contemporary restrooms, showers and laundry facilities. At the rear of the building, you can still see the old sloped ramp to the upper storey, which continues to be used as a storage space. All restrooms, showers and laundry facilities in this new building are wheelchair accessible.
Discreet full bathrooms (shower and sink)

Separate shower cubicles

Private-use sinks

Separate toilet stalls

Accessible bathroom with shower, sink and toilet

Baby bathroom with bathtub, change table, small sink and child-size toilet

Powder room with mirror and hair dryer

Sinks

3 washing machines

2 clothes dryers

Clothes drying racks

Laundry sink

Chemical toilet

Shower for dogs
Strandhaus "Bei den Linden"
In the front area of the campground, straight behind the farmhouse and close to the "Bei den Linden" campsites, is the beach house with our new restrooms, shower and laundry facilities. The bright and modern facilities are equipped with everything you need for making your stay with us a memorable experience. All facilities are accessed from ground level.
Discreet full bathrooms (shower and sink)

Separate shower cubicles

Private-use sinks

Separate toilet stalls

Laundry sink

Chemical toilet
feel good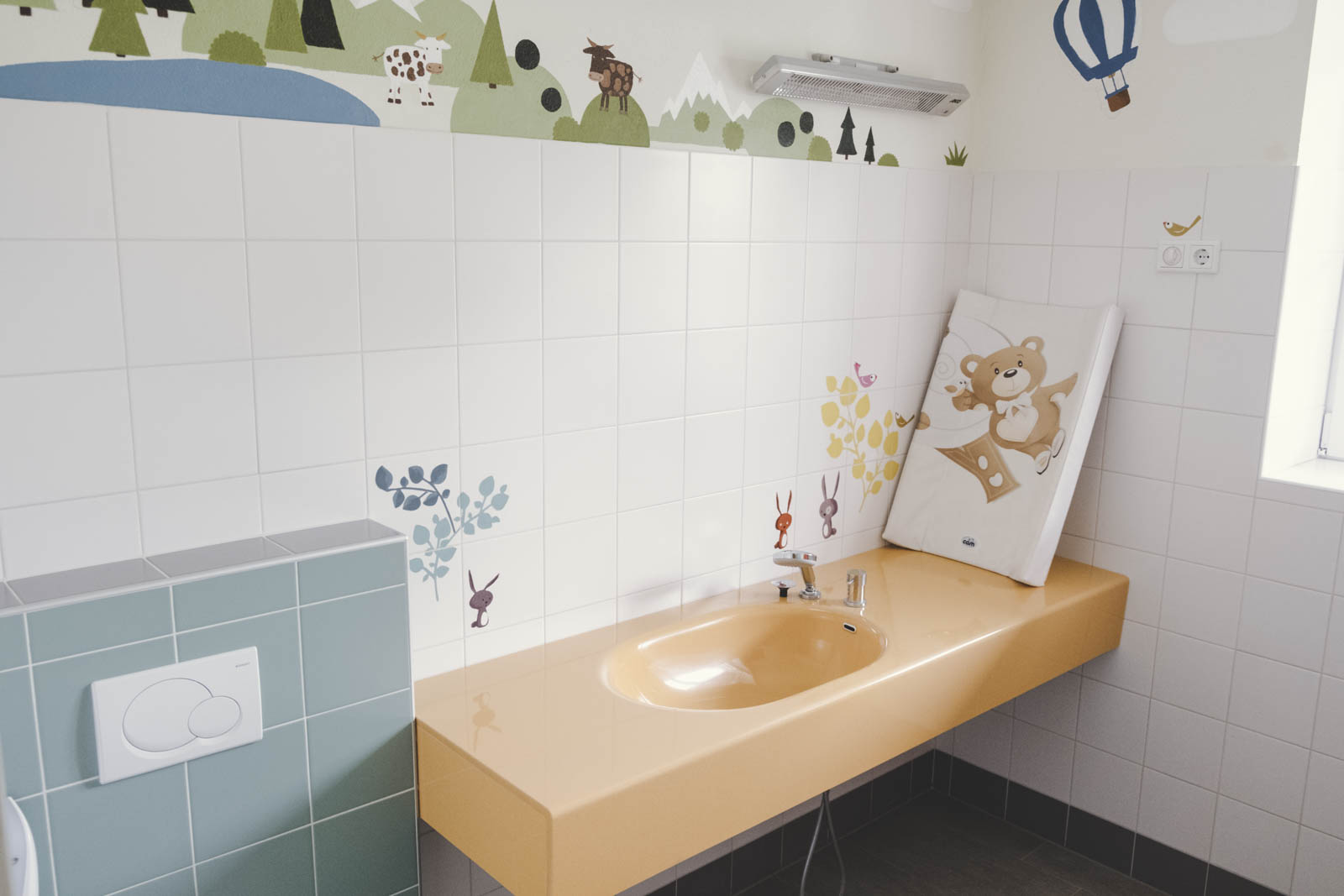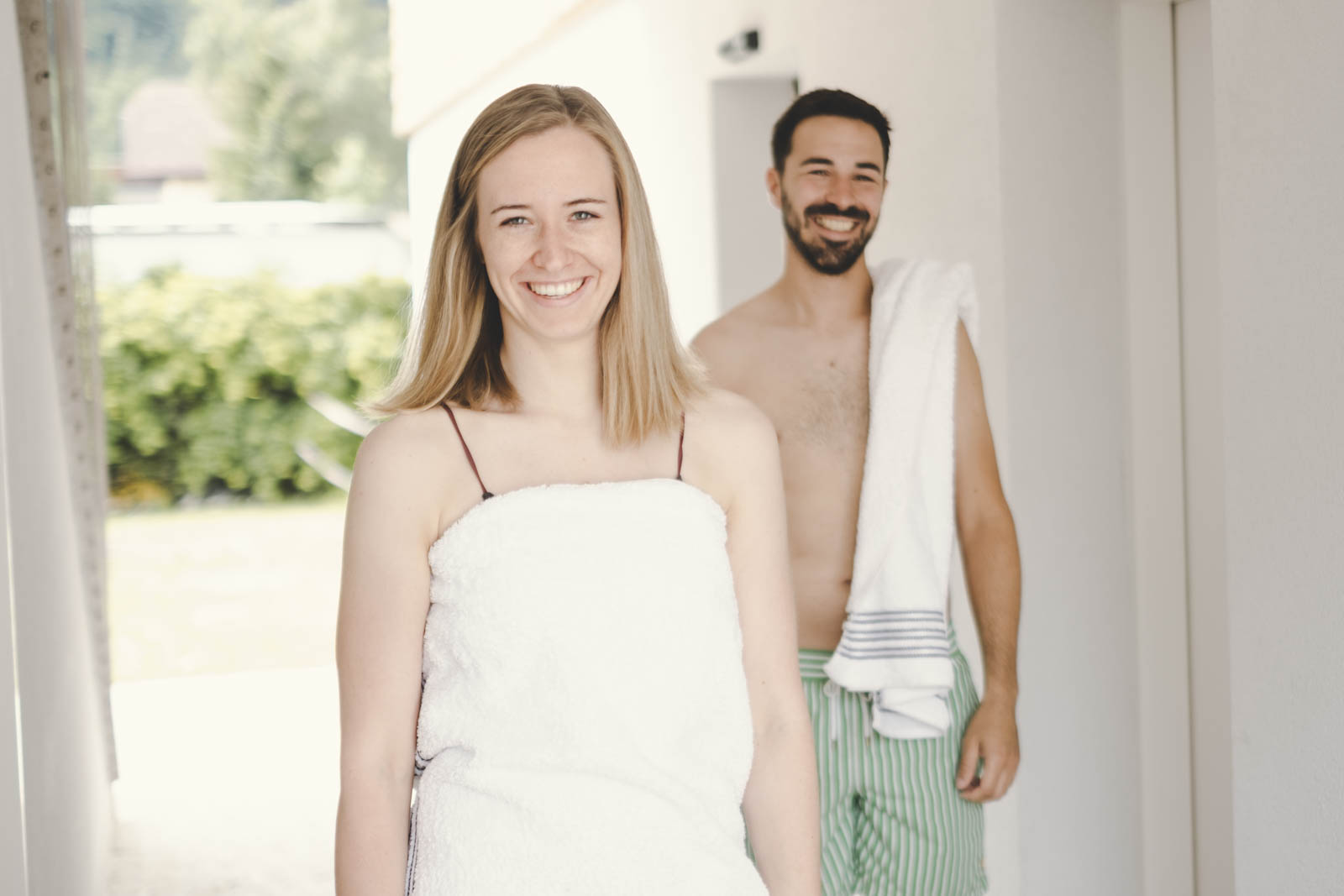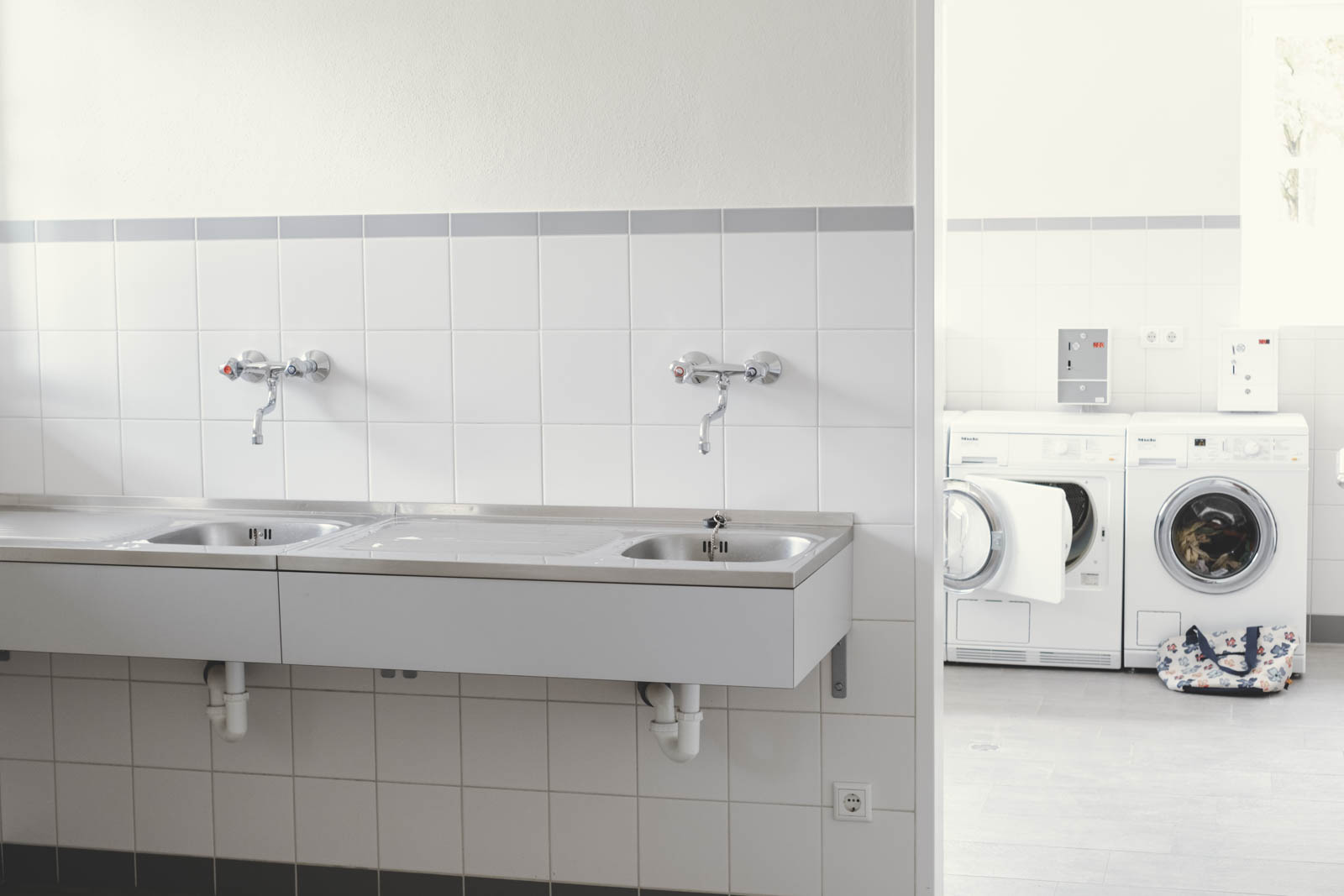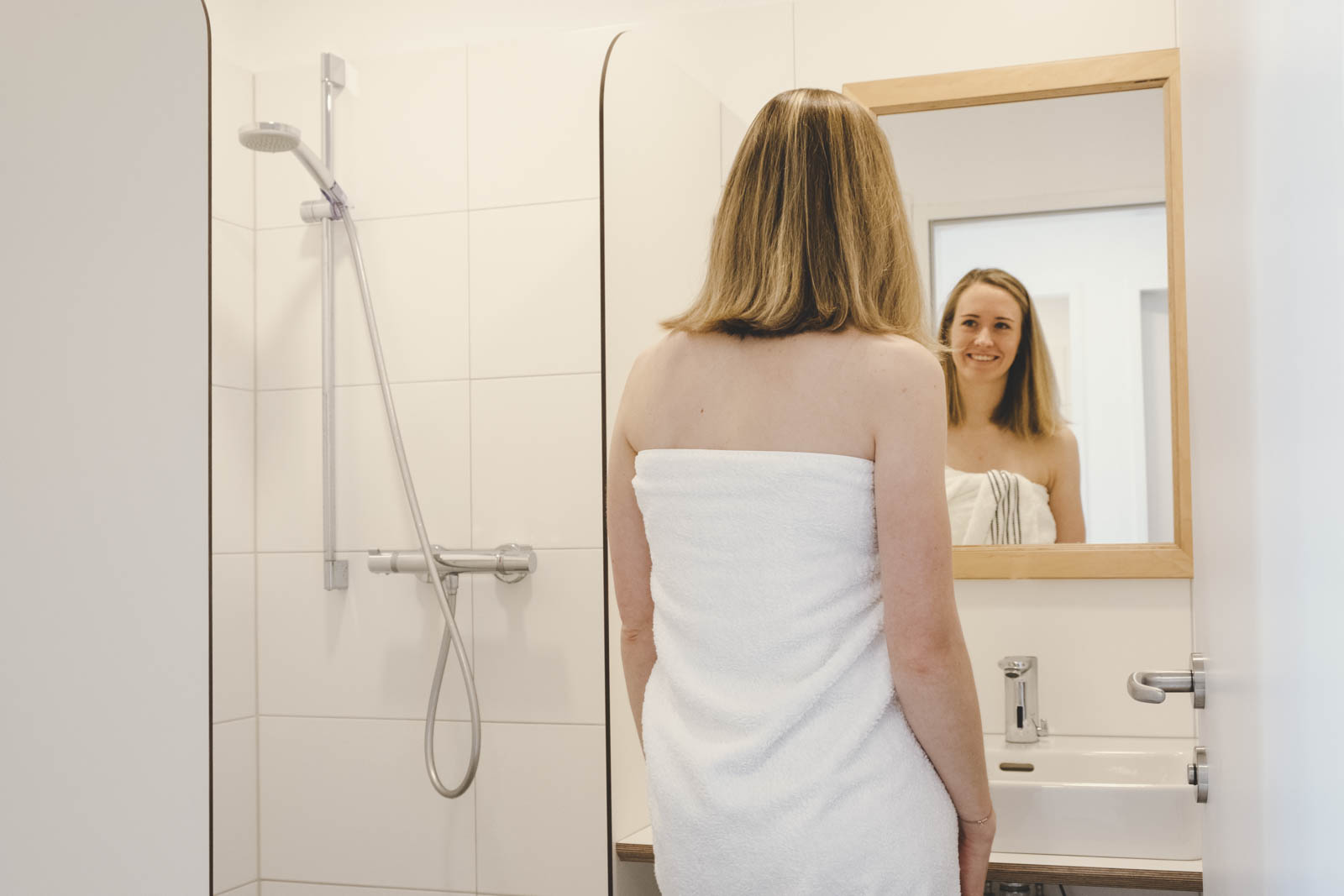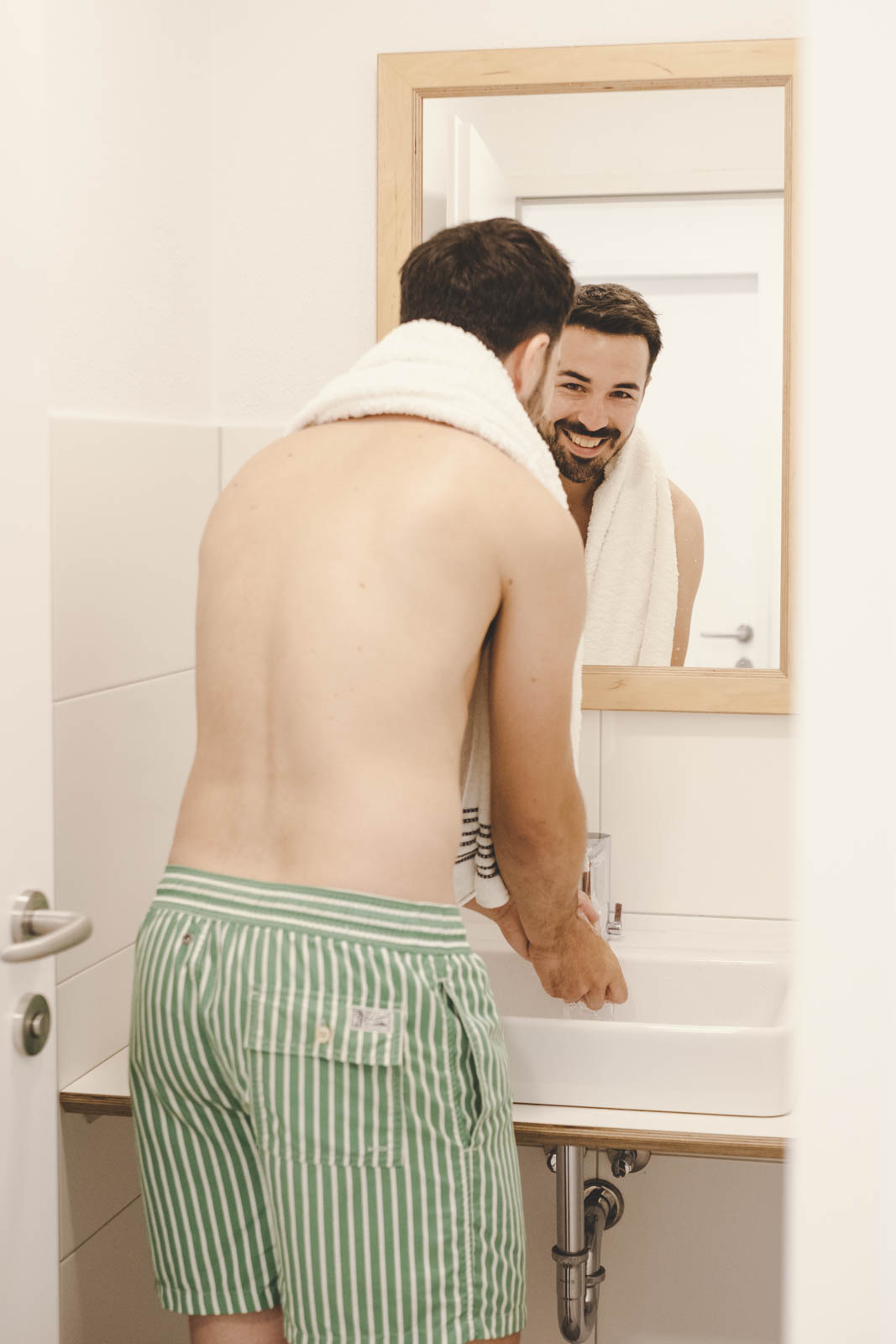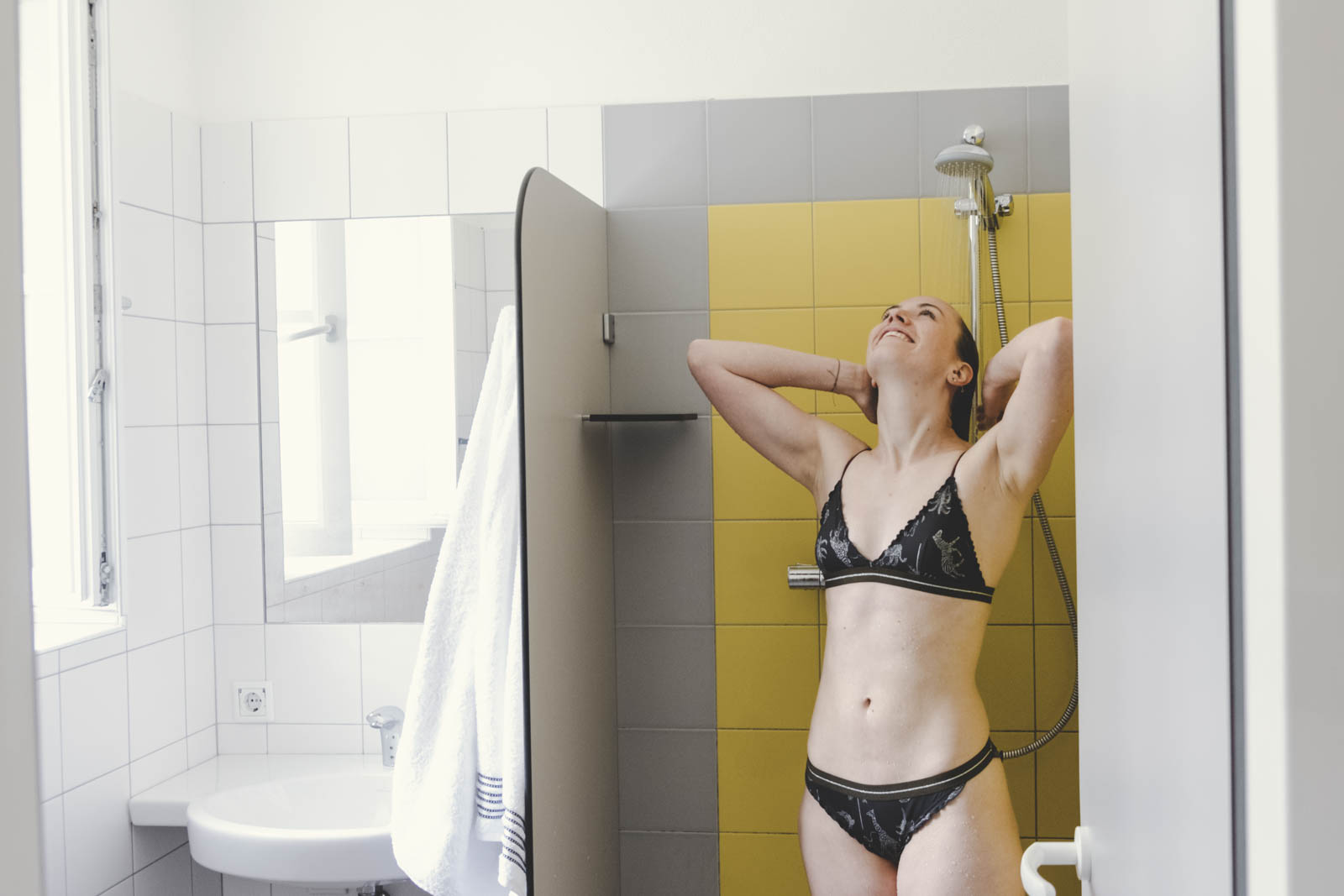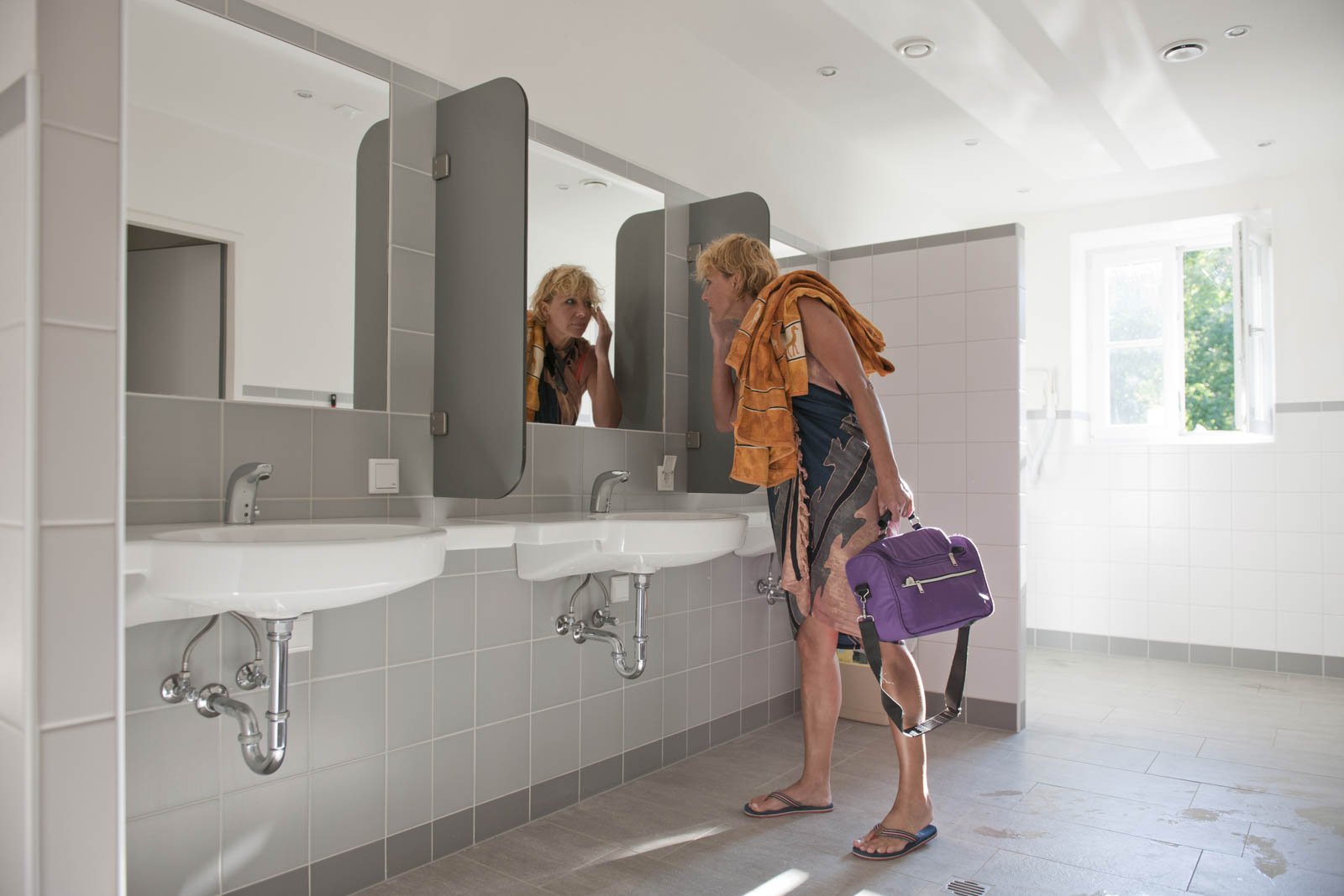 Everything you need: our convenience store
Our small convenience store is located right next to the old farmhouse. This self-service shop offers all the basics you need for a pleasant stay on our campground – from toiletry items to thongs, fresh pastries and premium produce from the region. Highly popular, not only with our little guests, is our delicious pizza-to-go, which can also be ordered from the shop. A pub is also located within short walking distance to the campground.
For kids of all ages: fun and adventure on our playgrounds
Climbing walls, slides, swings: our playground is the perfect place for your kids to let off some steam. There's a slide and a swing for the little ones, while the older kids can play a game of football or volleyball on the lawns right next to the playground. The large field behind the playground is part of our farming operations and still actively cultivated by us. There is another playground for smaller children right next to the new building, across from our old farmhouse and the campground reception.
read more
Holidays with children at Lindenstrand Campground
Lindenstrand Campground is a paradise for children of all ages. The following facilities are available to all guests and their children throughout their stay:
Large playground ("Auf der Sommerwiese")

Ball game lawns with football goals and badminton net

Covered ping-pong table

Small playground ("Bei den Linden")

Toddler playroom ("Strandhaus")
Bringing your dog along to Lindenstrand Campground
Your dog is welcome to accompany you to the beach – but dogs are not permitted in the water at Wolfgangsee. Thank you for keeping your dog on a lead in all other campground areas. Your dog can run off-lead in the designated dog-friendly area ("Hundewiese"). The following facilities are available to you and your dog:
Dedicated dog-walking area ("Auf der Sommerwiese", opposite the football field)

Dog shower
Our rentals: bicycles, SUP, kayaks, deckchairs and more
Do you feel like exploring the region by bicycle or giving stand up paddling (SUP) a go? Or would you rather glide across the lake in a kayak? Our rental station has all the equipment you need for a great day out. Forgot your deckchairs at home? No problem, you are welcome to pick up one of the comfortable deckchairs available from the rental station.
Just ask one of our friendly staff members or visit the reception desk – we'll be happy to assist you.
Our rental station offers:
SUP boards & paddles

Kayaks (single and double seaters)

E-Bikes

Bicycles

Child-size bicycles

Child seats

Deckchairs

Ping pong rackets and balls

Electric cooktop, pots and pans

Adapters (CEE adaptor plugs)
active summer